Next Friday Leag
ue Night ...
11/16/18
Club opens at 6p

Must be signed in by 6:40p

Play starts at 6:50p at the

Northside Christian Church
1221 N Elm Pl., Broken Arrow, OK.

Breaking News:
League Night
is 
11/23/18, Doors open at 6p, play starts at 6:45p .
(Singles format)
  Bring a
Friend!!!

************************************************* 

Next Junior class is, Saturday, 11/24/18, 10-1p

League Night Fees

First night    -    FREE
Adult            -     $4

College 19-21    $2

Age 13-18          $1

We are non-profit, fees are used to purchase tables, club equipment and rent 
Tri-County Table Tennis Tournament
Sign up now!!!!!! Entry blank below...
17 Seperate Events, 40 Trophies!
Attention:
 League night is open to all players!
Beginners are welcome!
 You do not need to attend every week! You can participate in accordance to your schedule. Details as to how we conduct league night are explained throughout this website.... Come join the fun!
 League 11/16/18  Doubles(6 teams)
 1) Eric Gassen/Howard Grinsteinner 5-0    4) John Strelow/Jacob McCarthur     2-3
 2) Obie Bryant/Nicole Cullison         4-1     5) Diego & Bruno Fernandez              1-4
 3) Okba Harfouch/Daniel Yowell     3-2    6) Jacee Grinsteinner/Noelle Cullison 0-5
Attention: If you have aspirations to compete in a Ping Pong tournament, the Tri-County is a great opportunity to get your feet wet. Club tournaments around the country are held every weekend. Most individual events cost between $18-$30. If you enter 3 events, travel to the venue, get at least one night at a motel, eat at some restaurants, your talking somewhere between $250-$500 to attend. Here is an opportunity to compete, head to head with local players, in many diversified events, at a very low cost. 3 events total is $6-$18. Future tournaments, in this area, depend on participation. Help us grow this wonderful sport, by entering this tournament. 9 youth events are available. Take advantage of this, most tourneys have 0-1 youth events. Many trophies will be available by placing 1st and 2nd in your event. You can enter 1- 5 events. Hope to see you on December 1st. Enter early. Some events may fill up. Tell a friend about the Tri-County. Thank you.......

Friday Open League Night has a competitive

Round Robin

format. To play you must sign up by 6:40p. You can call me at 918 240-7465 to sign up in advance. You must be present by 7:00p to compete

. We play at the Northside Christian Church, at 1221 N. Elm Pl. BA 

First night is free!   Regular Fee Schedule Above.

Click on link below to view and print...
Please read instruction page for all details,
For questions call Brad (918) 240-7465
     1st Tri-County Table Tennis Tournament. (below)This will be the flyer used to attract the areas best, the average player, and local youth players to join the fun. Let me know if you have the perfect place to post one. I will get it to you. This is a non-sanctioned event that will be fun to enter. Make your plans today. Hope to see many of you attend. This is a great way to support the local Table Tennis scene. Growth through participation.

Welcome
to the Broken Arrow Ping Pong Club's new web site.
League play on Fridays nights
will have a  competitive format. Participants will be assigned a rating based on skill level or use their current USATT tournament rating. All skill levels are welcome and will be matched with others at your level. You do not need to attend every week.  See below as to how our rating system works. Players ratings will be updated weekly and published on this website. Game and match records will cumulatively evolve week to week and posted. When you attend, the top 4 rated players along with the table 2 winner from the previous week will compete in a Round Robin on table 1. The next 4 rated individuals and table 3 winner will be matched in a 5-person RR to battle it out on table 2. This format continues for all players. We will charge for play and use these funds for rent, and to purchase more tables and equipment. We are non-profit.
Call me with questions. 918 240-7465.  Brad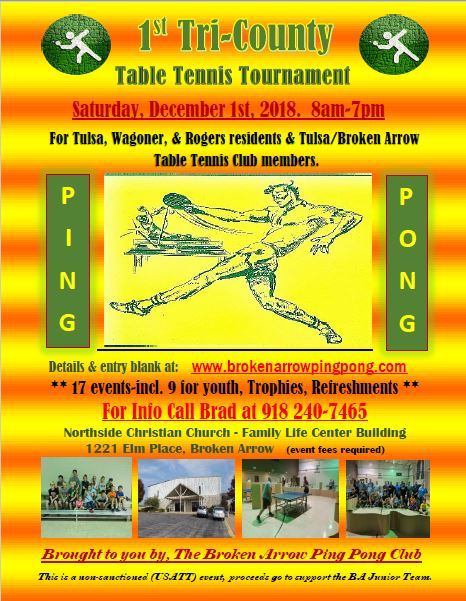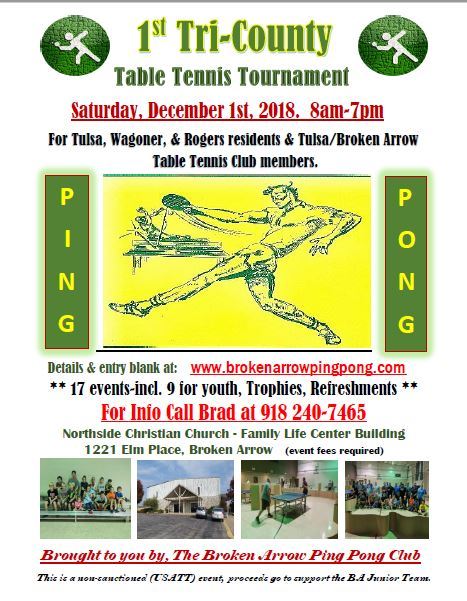 Attention:

Next  Junior Class is on Tuesday, 11/17/2018

with a new time, of 10a-12n. Table Tennis is such a family friendly sport. It can offer youth an outlet to grow positively into adulthood. It's an alternative to the smart phones, I-pads, computers, TV and such. Instead of watching your kids participate in sports, you can participate with them. Ping Pong affords your family that opportunity. Below, right are 4 articles written by successful adults (2 professors, a Dr. and a Hollywood actor/coach) who grew up in in the South Bend TT Club. Please, if you have children that are looking for a path, read these presentations. They tell stories of the positve influence a club can have. We plan to teach more than just a forehand loop and a backhand chop. We want to imprint the lesson that  hard work can lead to improvement. This is  such an important lesson that can be transferred to whatever it is your children find interest in. We will build a non-bullying environment, while emphasizing good sportsmanship, honesty, team-work, and focused effort. We plan to make this entire plan fun to be a part of. The one requirement that we ask is that you too become a part of the club. If you know of a local youth that would be interested, contact Brad (918) 240-7465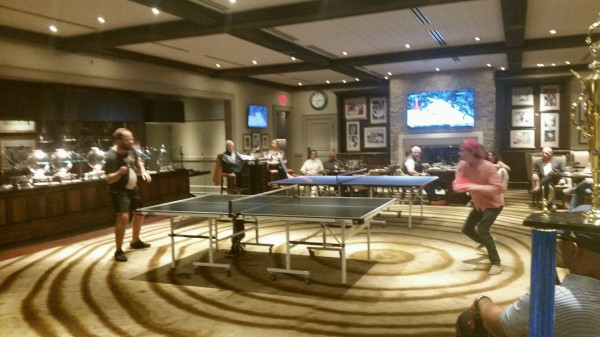 This years 2018 Southern Hills Country Club Grill Table Tennis Championship held on two Stiga tables. Coach Brad and Nicole helped run this event.
(above) Finals action at the Southern Hills Country Club between Tim Yardy and Reeder Hunt. Tim won the highly coveted 30" magnificent 1st place trophy. 17 players vied for top honors with many enthusiastic spectators showing their approval.
Attention:
I am working on a new merit structure for the clubs rating system. Coupled with the calculated number designation, would be a star degree level of expertise. The star system would range from beginners at 1 star to the most advanced players at 5 stars. Each star plateau has 4 individual levels of copper, platinum, diamond and master. Click the link to see the details. This is an experiment and I welcome your input. The star system would eventually be used in the formation of team leagues. Brad 918 240-7465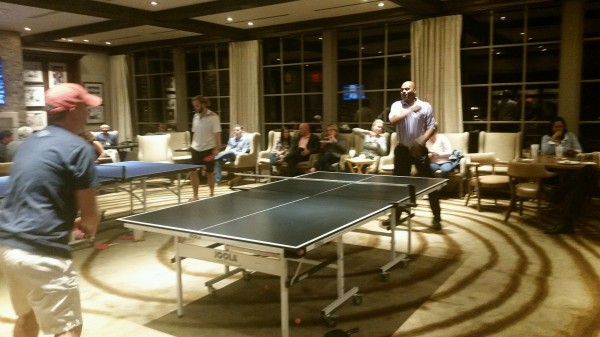 Broken Arrow Junior Table Tennis Club

is forming and training with the next session on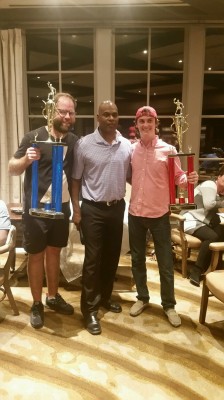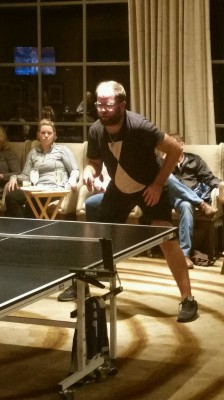 Families who play together, stay together!!!
Moms, Dads, Brothers, Sisters, Nieces, Nephews, Uncles, Aunts, Gramdmas, Grandpas
.
Join forces and head down to the Club
You won't be disappointed...
Sponsors needed for the Junior Team

.
      If interested contact Brad at
     (above top) On the far side tournament organizer Leonard Cato takes on one of the many competiters at Southern Hills. (bottom left) Leonard poses with champion Tim Yardy and 2nd place finisher Reeder Hunt. (bottom right) Yardy prepared for the next serve. He won the finals with in a close 2/3 game match.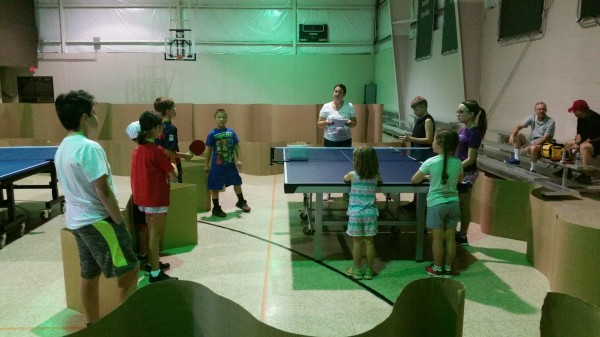 Coach Nicole explaining our clubs philosopy on sportsmanship. The juniors realize how important this aspect of the game is to our club. 9/14/18
Check out this article written by former junior member, John Kromkowski, about the ,
South Bend

Table Tennis Club

Check out this article written by former junior member, Paul Kochanowski, about the
South Bend

Table Tennis Club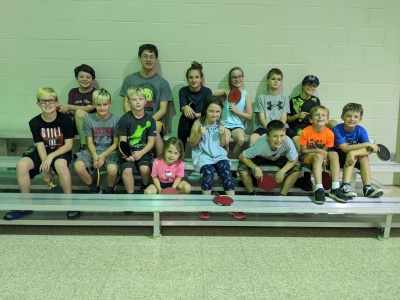 Check out this article written by former junior member,
South Bend

   Check out this article written by former junior member,
Dr. David Krizman for the,
South Bend
Table Tennis Club

Health benefits from playing Table Tennis....
Whether you're playing doubles or singles, table tennis, or ping pong, can be a fast-paced competitive sport. In fact, when played at an intense rate, it can be a great way to burn calories and get fit. I've added some links to some related articles below the top 10 list. Check them out.

Here are the Top 10 Health Benefits of Ping Pong:

 *Playing improves hand-eye coordination and it stimulates mental alertness, concentration and tactical strategy. This makes it the perfect game for young people to sharpen reflexes, and for older people to refine tactics.
 *Develops mental acuity. The speed, spin and placement of the ball are crucial in table tennis, and practiced players are highly skilled in both creating and solving puzzles involving these three attributes.
 *Improves reflexes. Due to the fast-paced, short-distance nature of the sport, both gross and fine muscle movements are improved. The game is distinguished by bursts of exertion and recovery, leading to fast-twitch muscle development.
 *It's easy on the joints. Have you had knee surgery, back problems, tired of twisting your ankles? Try table tennis. It's a great way to improve your leg, arm and core strength without overtaxing your joints.
 *Burns calories. A 150-pound person can burn 272 calories by playing table tennis for an hour. Considering the fact that the sport is entertaining and addictive, it can be a fun and easy way to burn calories.
 *Offers a social outlet. Whether you play in the community center or at home with friends, table tennis offers a great way to bond with other people while you lose weight. Because young and old people can play the game, it can help improve communication and build relationships, irrespective of age. Playing at home with siblings or parents can bring family members closer and enable them to spend more quality time with each other.
 *Keeps your brain sharp. Alzheimer's Weekly reports a clear increase in motor skills and cognitive awareness from playing table tennis, after a series of preliminary clinical studies in Japan found that table tennis markedly increases the flow of blood to the brain, and could possibly even prevent dementia.
 *Improves coordination. Following the ping pong ball as it moves quickly toward you, and following its trajectory as your opponent hits it helps improve hand-eye coordination.
 *Improves balance. Staying balanced and being able to quickly change direction are key to being successful in a ping pong rally. This is especially important for the elderly.
 *Stimulates various different parts of the brain. By anticipating an opponent's shot, a player uses the prefrontal cortex for strategic planning. The aerobic exercise from the physical activity of the game stimulates the hippocampus, the part of the brain that is responsible for allowing us to form and retain long-term facts and events.